Stable Solid And Aqueous H2Co3 From Co2 And H2O At High Pressure And High Temperature
Carbonic acid (H2CO3) forms in small amounts when CO2 dissolves in H2O, yet decomposes rapidly under ambient conditions of temperature and pressure. Despite its fleeting existence, H2CO3 plays an important role in the global carbon cycle and in biological carbonate-containing systems. The short lifetime in water and presumed low concentration under all terrestrial conditions has stifled study of this fundamental species. Here, we have examined CO2/H2O mixtures under conditions of high pressure and high temperature to explore the potential for reaction to H2CO3 inside celestial bodies. We present a novel method to prepare solid H2CO3 by heating CO2/H2O mixtures at high pressure with a CO2 laser. Furthermore, we found that, contrary to present understanding, neutral H2CO3 is a significant component in aqueous CO2 solutions above 2.4 GPa and 110 °C as identified by IR-absorption and Raman spectroscopy. This is highly significant for speciation of deep C–O–H fluids with potential consequences for fluid-carbonate-bearing rock interactions. As conditions inside subduction zones on Earth appear to be most favorable for production of aqueous H2CO3, a role in subduction related phenomena is inferred.
Đang xem: Stable solid and aqueous h2co3 from co2 and h2o at high pressure and high temperature
Carbon dioxide (CO2), when dissolved in water CO2(aq), readily reacts to form carbonic acid (H2CO3), but the acid dissociates so rapidly under ambient aqueous conditions to bicarbonate (HCO3−) and H3O+ that its very existence was doubted for a long time1. Consequently, undissociated, neutral aqueous H2CO3(aq) is usually not considered a relevant species in investigations of the CO2/H2O system in geological applications2,3. A number of synthetic pathways towards solid H2CO3 have been explored, including: treatment of cryogenic CO2/H2O mixtures with high-energy ion irradiation4; proton irradiation of pure solid CO2 (ref. 5); and direct protonation of HCO3− or CO32− in frozen aqueous solutions6,7,8,9. Until recently it was believed, that crystalline H2CO3 could exist as two separate polymorphs, α- and β-H2CO3, which could even be resublimed while retaining their polymorphic structure10,11. However, by employing a novel strategy for the synthesis of solid H2CO3 through gas-phase pyrolysis of alkyl carbonates, Reisenauer et al.12 could demonstrate that what was known as α-H2CO3 is actually its monomethyl ester (CH3OCO2H) rather than the acid itself, leaving the β-polymorph as the only observed crystal structure of H2CO3 to date. Yet, the exact crystal structure of β-H2CO3 is still unknown. The FT-IR and Raman spectra of solid H2CO3 below 220 K at low pressure are now well established and several theoretical studies have reported on the structure and stability of H2CO3 with respect to decomposition to CO2 and H2O as well as on the relative stability of its isomers and on their vibrational characteristics7,8,13,14,15. Its molecular decomposition rate has been investigated both experimentally16 and theoretically and it was found to be accelerated over 1012 times at ambient conditions by as few as three water molecules to reach macroscopically observed decomposition rates1,17. Interestingly, increased thermal stability of solid H2CO3 at elevated pressure has been predicted by ab initio molecular dynamic simulations18. However, no indications of metastable states at elevated pressure or increased thermodynamic stability of H2CO3 (aq) have been found up to 1.94 GPa19.
In this work, we studied H2O/CO2 mixtures experimentally at high pressure and temperatures in a diamond anvil cell (DAC), looking for evidence of increased stability of molecular H2CO3 in aqueous solution at elevated pressure. Within the Earth, at depths corresponding to pressures of up to 4.6 GPa (~160 km, upper mantle), temperatures are heterogeneously distributed20, depending on the exact environment, but can reach 1500 °C when melt is present. To cover this terrestrially relevant temperature range two sets of experiments were performed. In the first set of experiments, H2O/CO2 mixtures were compressed to the desired pressure and then heated by irradiation with a CO2 laser. The laser was focused to irradiate only a fraction of the sample. In this way, the behavior of the system at high T can be investigated in the center of the heated area while phenomena of the transition down to room temperature can be investigated on the hot spot periphery. A solid product was synthesized during laser heating and the pressure-dependence of the vibrational modes of this product was investigated up to 9.1 GPa at ambient temperature. Additionally, the stability of the solid product with respect to pressure was investigated by compression to 25 GPa after synthesis at 4.3 GPa. In the second set of experiments, the sample was heated resistively to up to 280 °C after compression to the desired pressure. During resistive heating, the evolution of the system was monitored in situ by IR absorption spectroscopy. In both sets of heating experiments, the pressure range from 1.5 to 4.6 GPa was covered.
To simulate conditions inside the Earth, we studied CO2/H2O mixtures with a wide range of pressures (1.5 GPa, 2.1 GPa, 2.6 GPa, 3 GPa 3.5 GPa and 4.6 GPa) up to 1500 °C by CO2 laser heating. The measurement on a CO2/H2O (1:1.4) mixture at 3.5 GPa shall serve as an example of our results. When the directly illuminated sample area was heated above the melting temperature of the components, only a small part around this area remains liquid due to the steep thermal gradients encountered in laser-heating experiments in a DAC. During laser-heating to about 1500 °C, a dark substance formed around the directly heated area, which disappears again when the laser spot is moved above it. However, the dark substance remained at the trailing end of the scanning movement which enabled us to deposit it in the whole sample area. The directly heated region remained clear after the laser was switched off (Fig. 1a). This transformation is accompanied by a large increase in volume, as indicated by the increase of pressure after laser heating (Supplementary Fig. S1). The 'dark' appearance of the product is probably not the consequence of actual light absorption in the visible range but due to a macroscopically heterogeneous sample structure. Quenching of the sample at the trailing end of the moving laser spot likely happens too quickly to allow for proper crystal growth, leaving finely dispersed crystallites of the synthesized product, CO2 and H2O, possibly within a glassy mixture of all three. Differences in the refractive index of the different components of the mixture will cause internal scattering of incident light and the "dark" appearance in this area. We will continue to use the term 'dark' to distinguish the area with synthesized solid product from the rest of the sample.
Xem thêm: Công Thức Trừ Cửa Nhôm Pma Cao Cấp, Công Thức Sản Xuất Làm Cửa Nhôm Pma Cao Cấp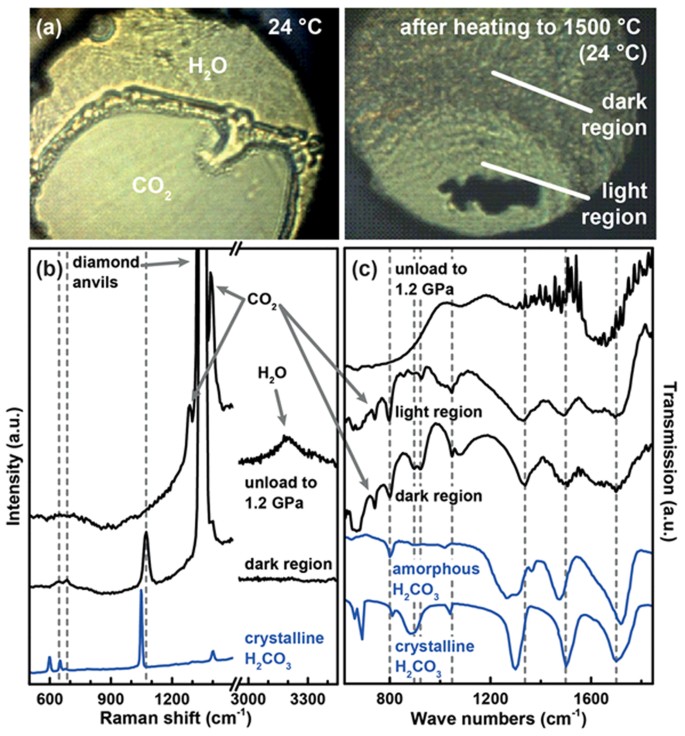 (a) Images of the CO2/H2O mixture before and after laser heating to 1500 °C at 3.5 GPa. The whole sample area was scanned with a CO2-laser. The laser was switched off at the light area at the bottom of the image. The black piece in the center of the light area is gasket material (platinum). Raman spectra (b) and IR absorption spectra (c) of the sample were recorded at 3.5 GPa after cooling down to room temperature from 1500 °C. Reference Raman and IR absorption spectra of crystalline and amorphous H2CO3 are shown in blue for comparison8,13. The vertical dashed lines highlight the observed high pressure absorption bands of H2CO3 while the reference spectra were recorded in vacuo. The spectrum recorded at 1.2 GPa shows the decomposition of H2CO3 after pressure was reduced to below 2.4 GPa where upon pressure dropped by itself to 1.2 GPa.
The Raman spectrum (Fig. 1b) of the dark substance recorded at room temperature showed a sharp, intense peak at 1073 cm−1 and two small peaks at 639 cm−1 and 685 cm−1. Meanwhile, the intensity of the Raman modes of CO2–I (1290 cm−1 and 1393 cm−1) and the O-H stretching mode of H2O-Ice VII (3000-3400 cm−1) are greatly reduced with the appearance of these new peaks. The only compounds in the CO2-H2O binary system known to form from a reaction of its endmembers are CO2 clathrate hydrates21 and members of the carbonate equilibrium. The presence of CO2 clathrate hydrate can be excluded as its Raman spectrum21 largely resembles the spectra of H2O and CO2 and even the recently discovered high-pressure modification was shown to decompose above a pressure of 1 GPa21. The only member of the carbonate equilibrium from pure H2O/CO2 mixtures known to exist as a solid is H2CO3. Indeed, the sharp peak at 1073 cm−1 is coincident with the intense mixed mode of the symmetric stretching vibrations νs(C–O) and νs(C=O) of crystalline H2CO3 (Supplementary Table S1)8 while the two weaker peaks at 639 cm−1 and 685 cm−1 coincide with skeletal vibrations of crystalline H2CO3 and with its in-plane deformation vibration νip(COO), respectively8. The weak mixed Raman mode of the δip(COH) and ν(C–O) vibration in crystalline H2CO3 (ref. 8), usually observed at 1403 cm−1, might be obscured by the very strong Raman band from diamond at 1332 cm−1 or by the νs(C=O) vibration of CO2. Also, the IR absorption spectra of both the dark and the light sample region at room temperature (Fig. 1c) show absorption bands at 800 cm−1, 1048 cm−1, 1337 cm−1, 1498 cm−1 and 1699 cm−1 in both spectra which are well correlated to the respective bands in reference spectra of amorphous and crystalline H2CO3 (ref. 13). It is noteworthy that the IR spectrum of the dark region shows a double peak at 896 cm−1 and 920 cm−1 (highlighted with two dashed lines in Fig. 1c). This feature has been observed for H2CO3 previously13. The presence of intense absorption in this frequency range has been recognized as a marker for the crystallinity of H2CO3, as can be seen from a comparison of reference spectra from both polymorphs13. Experiments on different CO2/H2O ratios (from excess CO2 to excess H2O) revealed, that the dark product could be observed at any investigated composition (Supplementary Fig. S2).
Xem thêm: Những Lưu Ý Khi Nuôi Con Bằng Sữa Công Thức, Những Lưu Ý Khi Nuôi Trẻ Bằng Sữa Công Thức
While it is tempting to take the correlations between the observed bands in our experiment and the published spectra of solid H2CO3 as proof for the presence of H2CO3 in our experiments, it must be borne in mind that these reference spectra were recorded under cryogenic conditions in vacuo (Supplementary Table S1). When comparing the band positions with published data, small differences become apparent: δoop(CO3) is found at slightly lower wavenumbers, the skeletal bending mode, δip(COO), δoop(COH), νas(C–O)/νas(C=O) and δip(COH) are found at higher wavenumbers than the bands from the reference spectra while νas(C=O) and νas(C(OH)2) appear essentially at the same frequency. We are confident that the position of IR absorption bands in H2CO3 is not very sensitive to temperature as the published IR absorption bands of H2CO3 from Kohl et al.8 and Winkel et al.13 are essentially identical although they were recorded at temperatures differing by 120 K (Supplementary Table S1). To test if the position of the strong 1073 cm−1 Raman mode is sensitive to sample temperature we first synthesized the dark product as described above from a CO2/H2O (1:1.8) mixture at 4.0 GPa and then turned on the laser again at lower power to heat the center of the directly illuminated the sample area to below 700 °C. A video taken during laser heating (Supplementary Video S1) shows that both the heated spot and a circular area around it were liquid while about half the sample away from the heated area remained solid (Fig. 2a). We measured the Raman spectrum of the sample during heating in situ in the center of the heated area, at the liquid edge and in the solid exterior (Fig. 2b). The Raman mode at 1073 cm−1 could be observed in the liquid and in the solid outer sample area but not in the directly heated inner part. Furthermore, its frequency was invariant, independent of where it was recorded and at which temperature. Hence, the observed differences in Raman band position are likely related to the pressure differences of our experiments to the ones reported in literature. To investigate the pressure dependence of the observed bands, we studied the dependence of Raman shift and IR absorption on pressure, as shown in Fig. 3. In this experiment, we first synthesized the dark product by laser heating a 1:1 CO2/H2O mixture at about 3.9 GPa and then successively compressed to 9.1 GPa while recording Raman and IR absorption spectra at 24 °C. With increasing pressure, δoop(CO3) displays a red shift, δoop(COH) and νas(C–O)/νas(C=O) and δip(COH) blue-shift while νas(C=O) and νas(C(OH)2) do not shift significantly. Extrapolating to the low pressure at which the reference spectra were recorded, all modes observed in our experiment shift towards the published spectral features of H2CO3 (ref. 8).